Thinking of traveling in Thailand?
Well, you truly couldn't ask for a better backpacking destination.
From gleaming Buddhist temples to buzzing night markets, and from its delicious food to its gorgeous coastline, it's easy to see why Thailand is ever so popular.
In fact, Thailand is a bit of a rite of passage among backpackers. Ask any globetrotter if they've ever been and chances are their fond memories and stories of backpacking Thailand come bursting right out like a party popper.
Now, it's your turn to jump in!
I've been to Thailand many times now and always like to come back for more. But I also still remember what it felt like the first time I landed in Bangkok, excited to be in this exotic other world, but also nervous to be at the start of a new adventure.
Luckily, backpacking Thailand is pretty easy if you come prepared.
Read on for my top tips for backpacking Thailand.
Backpacker scene in Thailand
The one thing that makes Thailand so easy and fun is the backpacking scene. You'll find lively traveler hubs all over the country.
There is usually about a 50/50 mix between travelers going around Thailand only and those at the start of a longer trip through Southeast Asia.
Thailand is popular with many younger travelers but you'll truly meet people of any age and type — from party animals to cultural travelers, from hippies to luxury-lovers, and from social butterflies to introverts.
The key to tapping into the travel scene is to stay in hostels as much as you can. Cheap hostels can be found pretty much anywhere. Some of these are party hostels, others are more social backpacker hostels, so just pick the ones with an atmosphere you like.
There is a big party scene in Thailand, especially in the south around some of the islands. Koh Phi Phi is notorious for it, as are parts of Koh Phangan. The backpacker street of Khao San Road in Bangkok is another place that seems to never sleep. The party scene in Thailand can be super fun, but it's also easily avoided if it's not your thing.
Thailand backpacking routes
Even though there are more places to see in Thailand than you could possibly cover in one trip, there is a pretty well-established backpacking route in Thailand.
You can read more tips on where to go in my Thailand example itinerary.
My number one tip is to visit the center and north before you visit the south. The north is more mountainous and travelling there is more focused on the culture and nature. You can have a great time there sampling the food, going on hill tribe treks, or just chilling in cheap Chiang Mai or some of the smaller mountain towns.
The south is more beach-focused with a mix of backpackers and people who are on a beach or resort holiday. I think it's fun to keep the beach in your itinerary last after you've done a bunch of exploring first.
But why stop at Thailand?
This country is a perfect gateway into Southeast Asia, bordering Laos, Cambodia, Myanmar, and Malaysia. If you're considering a bigger trip in the region, don't miss my Southeast Asia itinerary tips.
Finding hostels & other places to stay
Having a great trip in Thailand is not just about where you're going, but also where you're staying.
Backpacking Thailand is really fun and social, but this also depends hugely on the hostels you choose.
On my first visit to Thailand, when I was a less experienced backpacker, I booked myself a regular hotel in Bangkok for the first couple of nights. I thought this would be a nice way to get acclimatized, get through my jet-lag, and have a bit of comfort.
Well, it sucked.
Staying in a hotel was dreadfully boring as all the other guests were not into socializing. My accommodation was also in a dull commercial district. It kinda put a damper on my first few days in Thailand.
But then I ended up in Chiang Mai and stayed in an amazing backpacker hostel. I had an absolute blast as there were always other travelers to do trips with and I got so many tips for cool places to check out. Every morning at the breakfast table I made plans with other backpackers and we formed new groups for activities every day.
Recommended hostels in Bangkok
Suneta Hostel Khaosan
I love this hostel! It's not too big and great for meeting people. Just a block or two from Khaosan
The Yard Hostel
Chilled out garden and in a local neighborhood. It's a bit far from the center, but my fave!
Jam Hostel Bangkok
Close to Khao San, with social/party vibe on the rooftop
The hostels are 100% key to the Thailand backpacking experience. To set you off on the right track, I've listed 5 amazing hostels in Bangkok that will drop you right into the traveler scene.
The main website to find hostels is Hostelworld, though as you travel around you may also get tips through the backpacker grapevine. Don't book all your hostel stays while you're still at home; keep some flexibility so you can improvise or join other backpackers. However, it's a very good idea to have your first hostel in Bangkok booked before you fly there.
Staying in hostels is fun, but sometimes it's nicer to be in a guesthouse. I loved staying in bamboo huts in jungle villages in northern Thailand, or renting a cheap beach bungalow on the islands. If you meet other backpackers (as you surely will) then you can team up to share the costs of a room. You can often find great deals for guesthouses and locals hotels on Booking.com.
Is backpacking Thailand cheap?
There is often some confusion about the cost of travel in Thailand. This is probably because it does have its share of luxury resort tourism, which gets promoted a lot in magazines and through Instagram influencers.
However, you don't need to splash your cash to have fun in Thailand.
In fact, far from it! Thailand is an amazing budget destination, especially if you know where to go.
You can travel in Thailand for about $30 a day, roughly speaking — at least, if you stay in hostels, eat mostly the local food, and don't pay for expensive tours.
The center and north of Thailand are by far the cheapest.
In the northern city of Chiang Mai, a dorm bed goes for as little as $6 a night. Decent rooms can be found for $12 (e.g. think bamboo bungalows).
The north of Thailand is truly one of the best value destinations in the world. Backpackers and digital nomads constantly rave about how cheap it is. Rising levels of development in Thailand actually haven't changed this one bit.
The south of Thailand around the coast can be pretty pricey, though!
The island of Koh Phi Phi is so popular that basic twin rooms cost about $50–80 and even many dorm beds exceed $20/night. On Koh Phangan, some dorms that are near the Full Moon beach can cost as much as $40/night. If you're only visiting the most popular Thai beaches and islands, know that your daily budget will go up a lot.
So, it depends where you go.
But in general, Thailand is a very cheap country. For example, you can get a filling meal from a street vendor, like a Pad Thai, for around 40 THB ($1.30). A large bottle of beer from a mini-mart costs 50 THB ($1.60). You can see how Thailand can be very easy on the wallet.
Is Thailand safe?
This is a question I still get a lot, which is understandable as you may not know the situation in a country far away. However, Thailand is definitely very safe, especially as far as violent crime or any serious stuff goes. Seriously, don't sweat it.
But… traveling in Thailand is not without other possible safety issues. I can speak a bit from experience here.
The most common problems in Thailand have more to do with unsafe behavior than with crime. Luckily, this is something you can control.
Insurance for your Thailand trip
Travel Advice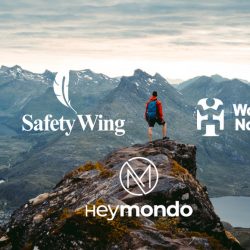 Travel insurance will cover you for theft, medical expenses, cancellation, and more. Heymondo offers great coverage, COVID-19 included, zero deductibles, and an app with 24/7 assistance & doctor chat.
Be especially careful driving motorbikes or scooters. Many backpackers do this for the first time in Thailand because bike rentals often don't even check your license or ability to drive. But if you happen to slide or crash, the asphalt will just rip your skin off like a potato peeler — or worse. Be super careful; scooter accidents are sadly way too common in Thailand.
Forget about axe murderers but be really conscious of traffic safety.
Don't go swimming drunk, either. This has been a problem in places like Koh Phangan where the infamous Full Moon Party takes place. Keep your valuables locked away in a secure locker at your hostel and just use your common sense in all other situations.
The good news is that Thailand is highly safe in a societal sense. So long as you travel responsibly, you can pretty much go anywhere and just go with the flow, even if you're traveling alone.
I recommend getting some travel insurance before you go as this will cover you financially and provides support in the case of theft, medical emergency, or other situations.
Backpacking solo in Thailand
Thailand is a perfect solo travel country for two reasons:
The travel logistics are pretty easy to figure out, so you'll have less stress if you're by yourself
There are so many backpackers in Thailand that you'll rarely have to be alone
If you've never traveled solo before, then Thailand is one of the top destinations I recommend trying it out. You may conclude it's not for you, but chances are it will open your eyes to just how fun it can be to travel by yourself.
You can certainly pick some forgotten beach on a Thai island and live a Robinson Crusoe life for a while, but if you travel to any of the known tourist destinations you're destined to meet other (solo) travelers everywhere.
My experience backpacking solo in Thailand is that it can, in fact, get a bit much sometimes. It's possible to get a bit mentally exhausted from how many people you meet. If you get to that point, you always have the option to just do something by yourself for a day or two.
A little shy? A great way to meet people is to sign up for shared activities, like walking tours, snorkeling trips, hiking, or adventure sports.
Language barriers
Good news: you don't need to learn Thai to travel in Thailand.
It does help to know a few phrases in the local language, such as hello, goodbye, and thank you. People will always appreciate your attempt to learn such basics. But you can get by in Thailand just using English for the most part.
It's not common for the average Thai person to know English, but those who work in the tourism or service industry will usually know enough to at least communicate with you on a basic level. Important signs are usually also displayed in English, so you don't have to worry too much.
Every now and then you do face a language barrier, but dealing with this is just part of the fun of traveling.
The "Wai" (raising your hand's palms together in salutation) and uttering the words "sawadee kup/ka" (kup for men and ka for women) is very important in Thailand. When you encounter someone older then you "wai" first. Someone younger will "wai" you first, then you return the gesture. If you're not sure, then "wai" as soon as you make eye contact. This is also true when leaving the scene, a way of showing your thanks.
Cultural etiquette
Thai people are widely known as being extremely welcoming and laidback. It's no coincidence Thailand is known as "the land of a thousand smiles".
But as with any country, there are specific unwritten rules of etiquette that are good to know about when engaging the Thai people.
In Thailand the head is deemed to be the highest and most respected part of the body, therefore it is very rude to touch someone's head, with the exception of very small children. It stands to reason then that the feet are the lowest part. These are the no-no's regarding them.
Pointing at something with your foot.
When seated, do not cross your legs so that your sole is facing someone.
Never step over someone, in fact even stepping over a sleeping dog is deemed to be wrong (also if you scare it unintentionally, it may bite you!).
Always remove your shoes before entering someone's house, or even the patio area leading to their door. Just keep an eye out for a pile of shoes and sandals.
Of course, when people know you're a foreigner, they'll be quite forgiving with you as long as you are well-intentioned. But it's always nice to adhere to the local customs.
One essential thing to keep in mind is that temples are sacred spaces. 
Don't go frolicking around a temple in just your hotpants or mankini. Turns out this is not a thing you should do.
Temples that are often visited by tourists typically provide sarongs or cloths for you to wear while inside. Use them to cover up in the ways that are indicated.
If you sit before a monk then always sit lower than them and make sure your feet are either under you or pointing away from them. This is also true when you are seated before a Buddha image or statue.
Finally, never insult the king of Thailand. He's the super most important dude and any perceived insult to him is a crime. (There was once a story of a backpacker pissing in an alley and accidentally doing so all over a poster of the King — and so he ended up in jail. Just FYI.)
Getting around in Thailand
Moving from A to B is not so difficult in Thailand, especially if you're moving between known tourist destinations.
You can usually book your bus, train, or minivan trips at the reception desk of your accommodation, but there are also tons of little travel agencies everywhere that can help you out.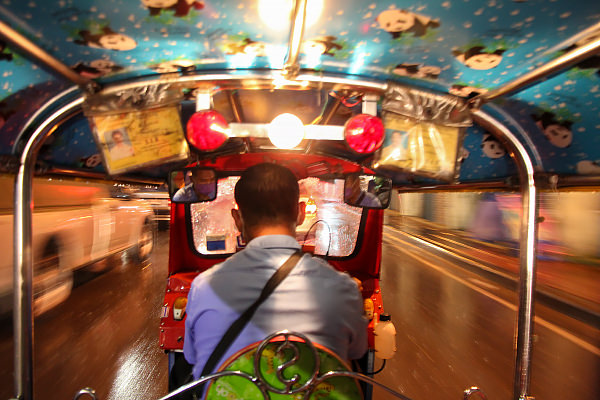 Whatever connection you need, they can usually figure it out for you. There are often very easy combination tickets that include any transfers you might need. Buses and minivans are cheap and convenient and can you can easily book them from hostels or local agencies.
If you need to book online, try 12go.asia, which has the widest coverage in Southeast Asia for buses, trains, ferries, and transfers.
You can hop around Thailand easily using budget flights, but I think the trains are more fun, better for the environment, and often cheaper. They're a good option for traveling from Bangkok to Chiang Mai in the north (these trains also go overnight) or from Bangkok and Surat Thani in the south.
Traveling by train has a certain charm and will make you feel like you're on a proper journey, so I always like to recommend this way of getting around.
When to go to Thailand
Broadly speaking, the rainiest months are from September to October. That goes for the country as a whole, though in the south, the monsoon has a different length on each coast:
West coast: May to October
East coast: September to December
If you are in Thailand for a short time and need the weather to be 'perfect,' you may wish to go in the tourist high saison of December to February.
Outside of these months, you'll have other advantages such as lower costs, more available accommodation, and fewer crowds. Even in rainy reason, it won't rain all the time; tropical rain showers are often intense but short-lived, and you can dry up pretty quickly. The forests and rice fields look greener and lusher during this time of year as well.
If you're traveling through the Southeast Asia region, then keep in mind the monsoon in other countries can be the opposite of Thailand. For instance, Indonesia has its dry saison from May to September, which is when it's rainy saison in most of Thailand, so you may wish to consider the order in which you visit the countries.
Cool experiences in Thailand
Finally, let me mention some of the great things you can do while backpacking in Thailand!
Get lost in Bangkok's Chinatown. I love exploring its maze of markets and narrow alleys. You'll see fishmongers chopping fish, welders fixing equipment, and exotic foodstuffs for sale—all amid a sea of Thai and Chinese neon signage. You can read more about the best areas of Bangkok to explore.
See the ruined capital of Sukhothai. Once the heart of the Siamese empire, these are the largest ancient ruins in Thailand. It's a big area so it doesn't feel as crowded as some of the sites in Bangkok.
Chill in the northern city of Chiang Mai. Lots of great food markets here, and the cost of accommodation is crazy cheap.
Go hill tribe trekking in the north, through lush jungles and visiting some of the minority villages near the border.
Hang out in the riverside hippie town of Pai, touristy but in a really fun way.
Go island-hopping on the southern coast. The southwest of Thailand, in particular, has tons of smaller islands that you can get to more easily.
Go rock climbing or deep-water soloing in Krabi, the coastal region with loads of big craggy cliffs. There are guided sessions for beginners and advanced. Thailand is a great destination for cheap and safe adventure activities.
Cover yourself with glow-in-the-dark neon paint and party all night long at the Full Moon Party, held once a month on the island of Koh Phangan.
Go snorkeling or learn how to scuba dive! The island of Koh Tao is one of the best places to learn scuba diving cheaply, but there are great reefs all over the Thai coast
Questions about backpacking Thailand?
I tried to answer some of the common questions here, but if something is still unclear about what to expect when backpacking Thailand, don't hesitate to drop a comment below.
---
Some links may be affiliate links, meaning I may earn commission from products or services I recommend. You can read about my site policies.
Japanfm.fr est composé d'une jeune équipe de rédacteurs passionnés par tout ce qui touche l'Asie en général. N'hésitez pas à partager notre article si celui-ci vous a plu !